We are enjoying this experience of sharing our pregnancy with our four children. I've come up with some wonderful ideas how you too can celebrate this miracle of pregnancy as a new mom or mother of many.
- Calendar - Growth Chart - In the Womb Movie - Reading List - Board Game - Sibling Shower -
A "Baby's Growing" Countdown Calendar
Use the weekly calendar idea I created or your own calendar. The designed calendar can be redrawn on construction paper or printed on your choice of paper, perhaps blue or pink!? Cut and paste the corresponding image when that week has arrived, covering the number. Be sure to read all the fun facts about your baby's development! I recommend ParentsConnect.com or BabyCenter.com for weekly development information.
Fetal Growth Chart with Fun Facts
Is your baby a blueberry, a pickle or a pineapple? Find out these interesting size comparisons as the embryo/fetus grows within the womb. Click on an image below to see up close or print. I compiled this information and images from
TheBump.com, BabyCenter.com
and
MayoClinic.com
.
Movie about Pregnancy
With parental guidance, my children were thrilled with the movie
In the Womb
by National Geographic. The only shocker was the last few minutes when she gave birth - the sounds and a quick shot of "down there." Perhaps preview it first? Incredible real and computer graphic images of baby's growth and new discoveries!
Books to read to your children:
Angel in the Waters
by Regina Doman, ill. Ben Hatke
Baby Margaret Mary: My Journey to Birth
by Gale Crush
The Miracle of Me
by Amy B Pedersen
The New Baby
by Mercer Mayer
List from Amazon.com
What's Inside Your Tummy, Mommy? - by Cocovini
Before You Were Born - by Davis
My Mom's Having A Baby - by Butler
What to Expect When Mommy's Having A Baby - by Murkoff
List from About.com
Happy Birth Day
Baby on the Way
Julius, the Baby of the World
What Baby Needs
How Was I Born
Arthur's New Baby
Our New Baby
Welcome with Love
We're Having a Homebirth!
A Pregnancy Education Game for Families
Thanks to
The Catholic Toolbox Blog
, you can print out your "Look Who's Growing" game board and playing cards at:
http://catholicblogger1.blogspot.com/2010/01/look-whos-growing.html
**A SIBLING SHOWER**
For mom's like me, who had their first baby shower oh so long ago, I discovered there are many who enjoy throwing a shower for their children who are to be the new BIG brother or sister. Read these 5 topics to start planning! Thanks to those bloggers who shared their ideas to inspire me!
LINK TO OUR SIBLING SHOWER:
Game Plan & More Good Ideas I Didn't Use
1. Plan ahead
: Create invitations, plan a meal, clever snacks, etc. Once young guests arrive, there is no time for dilly-dallying! Invitations should include a start and end time. If open for gifts, consider ideas such as story books or other items the big sis or bro can share with the new baby.
2. Food Ideas
: Mini Burgers, marshmallow fruit salad (pastels), drinks in baby bottles, fruit blocks (cubed fruit), alphabet crackers,
Bathtub Punch
,
Babies in a Blanket
(hot dog crossaints), baby carrots, …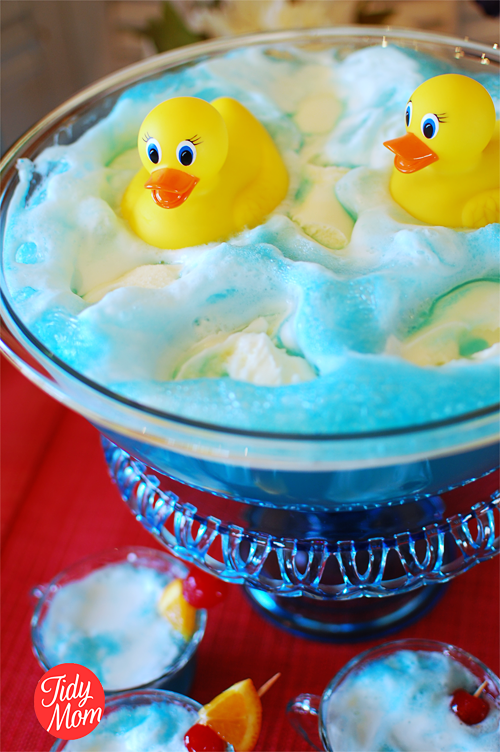 Snack: Nibble Necklaces made with Cheerios, fruit loops and life savers. String on licorice rope or plastic craft rope.
Snack: Marshmallow Babies
Dessert:
Cupcakes
or
cookies
are a classic choice!
Dessert in a jar: Consider baby food - the dessert jar selection is quite yummy. Gerber's Blueberry Buckle and Peach Cobbler! Or fill
baby jars with pudding
. If you don't have the jars, you can buy small canning jars.
3. Craft Ideas
: One craft could be something all the kids make for the new baby. Other crafts for them to take home would be simple and inexpensive.
> Guest Gift: Children's Diaper Bag. Have each child decorate a bag (sewn or purchased) to use as their "diaper bag" for the day, holding their game sheets, prizes won, crafts, etc. This would also be a great door prize.
*
Oriental Trading's design your own tote
*
Pattern to sew a pretend diaper bag and accessories
>
Tie Dye Spit up Cloths or Cloth Diapers
.
>
Decorate a floor blanket, or keepsake onesies or bibs.
- Use stencils, fabric markers, fabric paints, iron ons, etc. [Many ideas sparked by
Google Images
] For the blanket idea, have kids do hand prints in different colors, with their names written by it. Onesies should be individual, good for smaller parties.
[
Isn't That Cute Blog idea
]
>
Make homemade baby blocks
.
>
Make Hand Puppets
. Older kids would enjoy this project. Be creative with socks, paper bags, felt, etc or purchase a kit.
These adorable puppets are available for purchase at
The Land of Nod
online.
Oriental Trading
has a basic set you can decorate.
>
Snow Baby Ornament
: Cute directions for an easy baby ornament for any season.
4. Game Ideas
:
Whose Water Breaks First
- Prior to the day of the baby shower, fill each of the cups with water enough to cover the plastic baby toys at least halfway (since they may float). Place the cups in the freezer until frozen stiff (you need to prep the night before). The day of the baby shower party, give a cup to all the women who attend the shower as they arrive. Whoever can melt the ice the quickest or their water breaks gets the prize. The baby shower attendees can try to melt by blowing hot air on it or putting it in the sun (everything goes, let them get creative). It's a game that everyone can play at the baby shower no matter what age or physical limitation they may have.
>Can also have babies frozen in ice cube trays, then added to drink at the same time for faster game play.
>Suggested prizes: Water Balloon Kit, Snowglobe
Diaper Toss -
Wet a bunch of diapers and fold them up. Set up a diaper pail and let the kids toss them in, starting close and further away with each turn. Winner has most diapers in at the furthest distance, or a team win of tallied most in the pail.
> Prize ideas: Sand shovel and Pail, baseball, suckers…
5. Playtime Fun
Baby Food Jar Lid Game
- A simple memory game to have on the table for intermittent play time. This blog has directions and a cute print out.
My Water Broke
- if weather permits, try to break the water outside in a traditional water balloon fight!
Baby Station -
For playtime, simply have a baby care station with dollies, diapers and doll clothes. Great for really little guests.
Snow Babies -
Winter fun making a snow family!
MORE SHOWER IDEAS… as if that wasn't enough :)
http://stbrigidsacademy.blogspot.com/2012/01/sibling-shower.html
http://www.101babyshowerideas.com/big-brother-sister.htm
http://www.marthastewart.com/276963/baby-shower-ideas