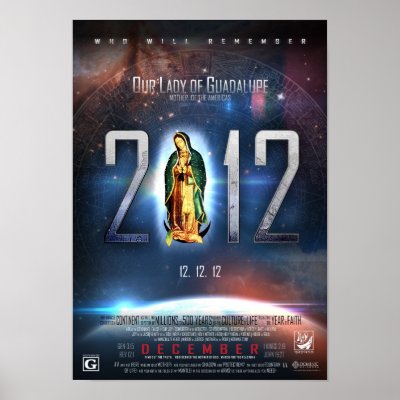 Dec 12th this year is 12-12-2012! It is also the feast of Our Lady of Guadalupe. Today I'm writing about some of the projects I hope to do with my children tomorrow between the chaos that is our life. Below is a picture of me outside the shrine that hosts the tilma worn by Juan Diego. That pilgrimage to Mexico was 27 years ago and I was just a little girl, but I remember it with much detail. Thanks to my parents for the many pilgrimages we've been on. I hope to share the photos and perhaps another trip with them someday soon!
10 Family-Friendly Projects to Celebrate!
1. OLG PENDANT: Trace OLG onto shrinydink paper, color and shrink for a necklace pendant.
2. OLG SHRINE: Buy a small, wood box w/ attached lid at craft store. Fit a OLG prayer card or image inside bottom. Decorate like a shrine with glitter, silk flowers, gems, etc inside and out. Display open like a frame/shrine.
3. OLG FINGERPUPPET: Cut out felt - 3" circle of gold, red dress, blue veil w/ embroidered stars, peach/tan face and hands, brown hair. Layer and attach with tacky glue. [Or buy one at
Sanctus Stitches
]
4. READ ABOUT OLG: Online
TruthsoftheImage.org
by KofC.
5. JUAN A SOMBRERO?: Make a sombrero! Directions by
FirstPalette.com
OR
Kaboose.com
6. ROSES FROM OLG: Hand out roses to people in the Adoration Chapel or anywhere in town. You might include a holy card.
7. OLG TILMAS: Print out an image of OLG and color it. Take a paper grocery bag, cut off the narrow sides, cut a hole in the bottom for your head, and glue on the image you colored. Extra: Curl up the bottom edge and glue on fake (or real) rose petals. [
detailed directions link
]
8. FELIZ NAVIDAD: Celebrate with Mexican Food, or visit CatholicCuisine.blogspot.com for OLG themed ideas like the tilma tortilla with ham roses, sombrero cookies, crescent cookies or croissants, etc. Shower of Roses also put together ideas for a
Tea with OLG
. We might simplify by making our favorite Taco Salad (Taco Ground Beef, Crushed Doritos, Western Dressing, Lettuce, Tomatoes, Green Onions, Olives, Shredded Cheese all mixed together).
9. JUAN A PINATA?: Want to get messy? Make your own piñata and stuff it with OLG's stars (star shaped candies), blue mantles (blue taffy), and roses (red foil wrapped chocolate kisses).
10. PRAY TO OLG: Take time to pray the Rosary, or head over to your church for Mass. Ours will be a Spanish Mass which would be an interesting experience for the children!
Homegrown Catholic's FAVORITE LINKS
Catholic Heritage Curricula's
How to Draw Our Lady of Guadalupe
Loyola Press'
OLG Coloring Sheet
Homeschool Goodies
O+L+G Feast Day LinkUp 2010
Catholic Mom's
OLG Lesson Plans
Catholic Icing's
Juan Diego and OLG Feast Day Ideas
Joy Filled Family's
OLG Resources
Yahoo Voices
OLG Lesson Plans
Blossoming Joy's
OLG Links & Activities
Modest Mommies Etsy Treasury: Mary, Mother of God
has a few items for sale that are Our Lady of Guadalupe inspired. I will also be sewing lap blankets with Our Lady of Guadalupe fleece, for sale by request (limited number). I like the "Guada-Loopy" Blankee for little toddlers!